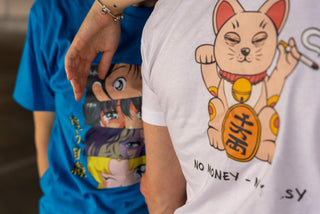 Artistic Fashion from Japan
All our work is designed by Japanese illustrators, using their flair, and a touch of animation, our online shop brings you the modern authentic style that Japanese pop culture embodies.
Japanese designers
Transform your artistic vision into reality with Print-on-Demand, offering endless opportunities to showcase your design on diverse products.
Free Shipping
Enjoy the world at your doorstep with free worldwide shipping over $50.
High Quality Printing
Elevate your designs with premium printing, bringing impeccable quality to a range of products.
Why Choose Us
we provide quality not quantity
We pride ourselves on offering the perfect blend of original design and style. Our carefully curated collection features the latest Japanese printed clothing crafted from premium materials.
Our collaboration with renowned Japanese illustrators brings their creative spirit to your wardrobe. Every piece reflects the authenticity of their artistry and our commitment to lasting excellence.
Maneki Neko Shirt
Shirt that brings good luck. 幸運招き猫